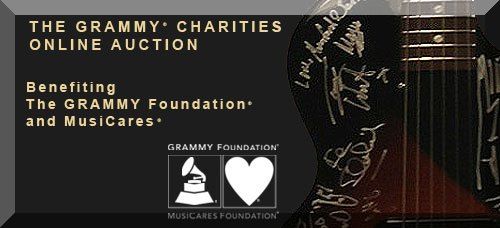 THE GRAMMY FOUNDATION® AND MUSICARES®
ANNOUNCE THEIR FIRST EXCLUSIVE
VIP EXPERIENCE-ONLY ONLINE AUCTION
Auction Offers Incredible Range Of Celebrity, Entertainment And Business VIP Experiences To Benefit The GRAMMY Foundation And MusiCares
GRAMMY Foundation® and MusiCares®
The first-ever celebrity, entertainment and business VIP Experiences online auction exclusively comprised of approximately 50 one-of-a-kind lots. All proceeds raised through this special auction will benefit programs and services of the GRAMMY Foundation and MusiCares.
The auction runs now through Dec. 3rd, 2013 Charitybuzz.com
Featured VIP celebrity, entertainment and business experiences include:
· Carrie Underwood VIP concert experience at the Grand Ole Opry with private meet-and-greet
· Private studio tour with GRAMMY® winner Alicia Keys
· Songwriting session with GRAMMY winner Kristian Bush of Sugarland
· Elton John "The Million Dollar Piano" experience in Las Vegas with private meet-and-greet
· Private tour of Treyarch — makers of the video game "Call Of Duty®: Black Ops II" — and play a round with M. Shadows from Avenged Sevenfold
· Private dinner for four at New York's iconic Sardi's restaurant with Tony Award winner Brian Stokes Mitchell, with "Motown: The Musical" viewing and private meet-and-greet with cast
· Private session with GRAMMY- winning composer Christopher Tin, and the Royal Philharmonic Orchestra at Abbey Road Studios in London
· Round of golf with GRAMMY -winning soul singer/songwriter Jonny Lang
· Demi Lovato VIP concert experience with meet-and-greet
· VIP movie premiere and official after-party experiences for The Wolf Of Wall Street starring Leonardo DiCaprio
· Coffee with "Grey's Anatomy" and "Scandal" music supervisor Alexandra Patsavas
· Scoring sessions with lead orchestrator Penka Kouneva for ABC's hit drama "Revenge" and feature film Need For Speed
· Writing session with multi-platinum hit songwriter Evan "Kidd" Bogart ("Halo" by Beyoncé, "SOS" by Rihanna, "Everybody" by Britney Spears, "Take You There," and many more)
· Ultimate SiriusXM experience featuring SiriusXM's Town Hall or Artist Confidential events
· VIP concert experience with Spanish rock star Enrique Bunbury and private meet-and-greet
· Ultimate GRAMMY VIP Experiences, including GRAMMY Awards Seat Filler, Bleachers and Rehearsals, and a one-of-a-kind Ultimate GRAMMY Package as part of the Charitybuzz 12 Days of Giving campaign
Proceeds from GRAMMY Charity Online Auctions provide essential support for the GRAMMY Foundation and MusiCares. Under the banner of GRAMMY in the Schools®, the GRAMMY Foundation produces a range of distinct education programs — across the country throughout the year — that serve high school students and their schools including GRAMMY Camp®, GRAMMY Camp — Basic Training, GRAMMY Camp — Jazz Session, and GRAMMY Signature Schools.
The GRAMMY Foundation also offers preservation and advancement initiatives, fosters dialogue about compelling issues facing the music industry, supports projects that increase the understanding of music and its role in society, and raises public awareness about the urgent need to preserve our nation's recorded sound legacy. These programs include the Entertainment Law Initiative®, the Grant Program with funding generously provided by The Recording Academy®, the GRAMMY Living Histories program, and the GRAMMY Foundation Legacy Concert (formerly the Music Preservation Project).
MusiCares ensures that music people have a place to turn in times of financial, medical and personal need by providing programs and services including emergency financial assistance, educational workshops, and flu shots, hearing tests, and medical/dental screenings.
The MusiCares MAP Fund® allows access to addiction recovery treatment and sober living resources for members of the music community, Safe Harbor Rooms, weekly addiction support groups, and the MusiCares Sober Touring Network provide ongoing recovery support.
The GRAMMY Foundation was established in 1989 to cultivate the understanding, appreciation and advancement of the contribution of recorded music to American culture. The Foundation accomplishes this mission through programs and activities that engage the music industry and cultural community as well as the general public. The Foundation works in partnership year-round with its founder, The Recording Academy®, to bring national attention to important issues such as the value and impact of music and arts education and the urgency of preserving our rich cultural heritage. In recognition of the significant role of teachers in shaping their students' musical experiences, the GRAMMY Foundation and The Recording Academy are partnering to present our first Music Educator Award. Open to current U.S. music teachers in kindergarten through college, the Music Educator Award will be given out during GRAMMY Week 2014. For more information on the Music Educator Award please visit grammymusicteacher.com.
For more information about the Foundation, please visit grammyfoundation.org  For breaking news and exclusive content, please like "GRAMMY in the Schools®" on Facebook at facebook.com/grammyintheschools, follow the GRAMMY Foundation on Twitter @GRAMMYFdn at twitter.com/GRAMMYFdn and join us on Instagram @GRAMMYFdn at instagram.com/GRAMMYfdn.
Established in 1989 by The Recording Academy®, MusiCares® provides a safety net of critical assistance for music people in times of need.
MusiCares' services and resources cover a wide range of financial, medical and personal emergencies, and each case is treated with integrity and confidentiality.
MusiCares also focuses the resources and attention of the music industry on human service issues that directly impact the health and welfare of the music community. For more information, please visit musicares.org.
For breaking news and exclusive content, please like "MusiCares" on Facebook at facebook.com/musicares, follow MusiCares on Twitter @MusiCares at twitter.com/musicares, and join us on Instagram at instagram.com/musicares.
About Charitybuzz
Charitybuzz raises funds for nonprofits around the globe through online auctions with the world's most recognizable celebrities and brands. Featuring access to acclaimed actors and musicians, business and political leaders, sports stars, luxury travel, couture fashion, rare memorabilia and more, Charitybuzz brings its online community of bidders exclusive opportunities to live their dreams and make a difference. Since launching, Charitybuzz has raised more than $80 million for charity. To learn more, visit Charitybuzz.com, like us on Facebook at Facebook.com/Charitybuzz
GRAMMY FOUNDATION VIP ONLINE AUCTION