BRIDGET KELLY GIVES FANS EARLY HOLIDAY PRESENT WITH EP
"CUT TO…BRIDGET KELLY"
EXCLUSIVE SPOTIFY STREAM STARTING DECEMBER 10th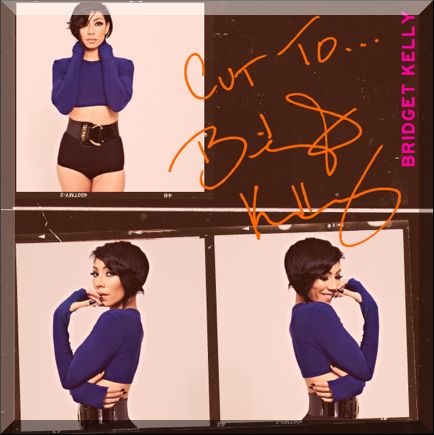 Just in time for the holiday season, GRAMMY award winning singer/songwriter and New York native Bridget Kelly will be streaming her EP entitled "Cut To…Bridget Kelly" on December 10th via Spotify. On December 17th "Cut to…Bridget Kelly" will be available for free download on Bridgetkelly.com as a holiday gift to her loyal fans.
"Cut To …Bridget Kelly" features the narration of an intense love story, revealing a much softer side to the artist. "I want to show my fans that sometimes it's okay to love even if it means to suffer through heartache and pain, "explains Bridget. The EP will feature six songs from the Roc Nation songstress including the popular hit single "Special Delivery" as well as the Jerry Wonda produced fan favorite "Goosebumps." The EP also features tracks written by fellow Roc Nation artists Sam Dew and Elijah Blake.
 Track listing
1. Goosebumps
2. The Mouth 
3. S#1T Happens
4. Friends
5. Coca1n3 Heartbreak
6. Special Delivery
Bridget Kelly Spotify Profile: https://open.spotify.com/user/bridgetkellymusic.
Bridget Kelly delivers honest, heartfelt lyrics, over powerful vocals. Bridget's songwriting for "Einstein" from Kelly Clarkson's Stronger album, won her the Best Pop Vocal Album award at the 2013 Grammy Awards. Now with her debut singles, "Special Delivery," and "Street Dreamin" with Kendrick Lamar climbing the charts, the Roc Nation songstress, has captured the attention of fans and tastemakers alike.  She honed her performance skills early in her career, having toured with JAY Z (Blueprint 3 Tour), Estelle (BET Music Matters Tour), Melanie Fiona (2013 Roc Nation & EOS Tour) and also performing at this year's Essence Music Festival in New Orleans.  Bridget has been featured in top publications such as Complex, VIBE, JET Magazine, Entertainment Weekly, The Source, and has graced the covers of Honey and EDGE magazines. In 2013 she was nominated for Best New Artist at the Soul Train Music Awards.
ROC NATION BRIDGET KELLY HOLIDAY EP

rawdoggtv.com/roc-nation-bridget-kelly-holiday-ep
YAHOO NEWS
GOOGLE NEWS