Bronner Bros. (BB); host to the largest multi cultural hair and beauty trade show recently announced the launch of their newprofessional brand: 'Happy Hair Experience' under the leadership of newly appointed show director, Sabrina McKenzie.
Scheduled to take place August 2–5, 2014 at the Georgia World Congress Center,BB International Hair Show 'Happy Hair Experience' will present an all new professional trade show featuring over 300 exhibitors, the industry's top educators and pioneers, and newly added educational experiences such as natural hair, barbering and beauty/skin/nails.
Now in its 67 th year, Bernard Bronner appointed Sabrina McKenzie, a former BB model, as the new show director; whose efforts are to produce a brand new show experience with the same solid values and traditions expected from the BB team
Bronner Bros International Hair Show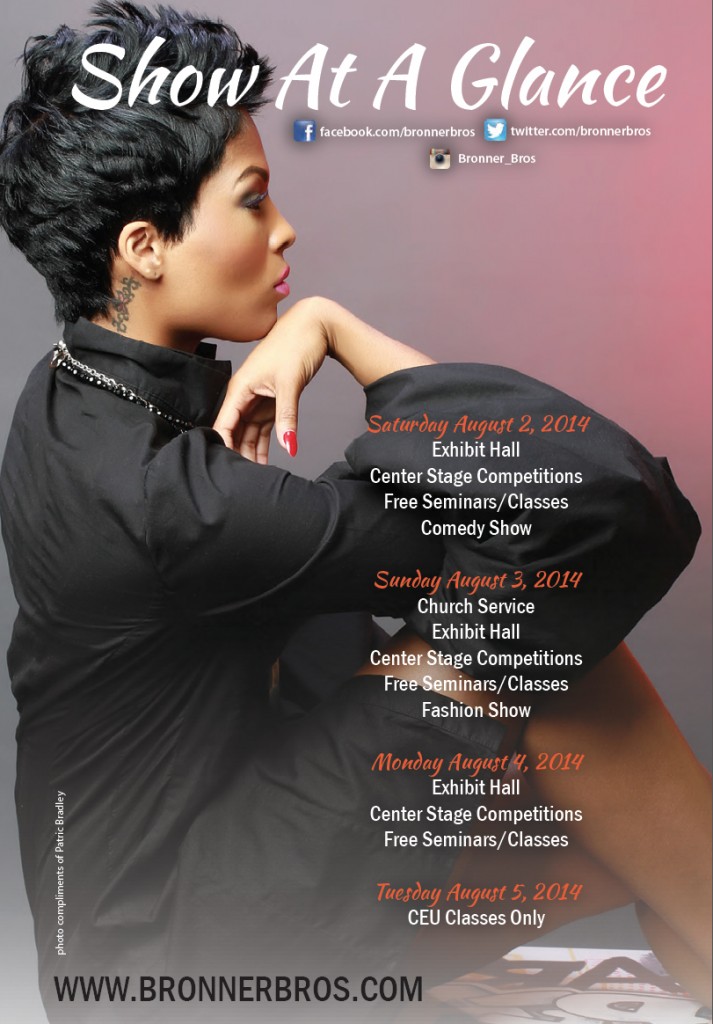 Bronner Brothers Hair Show 2014
Bronner Bros. International Hair Show Rebrands With the
All New 'Happy Hair' Experience
About Bronner Bros.
Bronner Bros. is a privately held, family-owned company, headquartered in Marietta,GA, which was founded by Nathaniel H. Bronner, Sr. and his brother Arthur Bronner, Sr. in 1947. Now headed by the family's second generation, Bronner Bros. is a globally recognized leader multicultur al hair and skin care products. For additional information, please visit: www.bronnerbros.com
wikipedia.org/wiki/Bronner_Bros.
Bronner Brothers Hair Show 2014 After Party

Josephine Lounge


Address: 6325 Peachtree Industrial Blvd, Atlanta, GA 30360

Show Taping Starts 10:30 P.M.