Nae Nae Dance Creators, Tell Miley Cyrus She's Doing It Wrong
Miley Cyrus has moved on from twerking. She's got a new (old) dance, and its creators are ragging on her for doing it all wrong.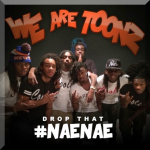 On Oct. 17th, Miley went on the Australian morning show Sunrise to promote her Bangerz tour and spoke about swapping twerking for the Nae Nae — even if her audiences were slow to catch on.
She then demonstrated the dance (which was originally created by the hip-hop group (We Are Toonz) in a delightfully awkward routine with Sunrise's hosts. ref: Billboard
Miley Cyrus: Goodbye Twerking HELLO

Nae Nae



NEW MIX TAPE #RADIOTOON DROPPING SOON!!  WE ARE TOONZ Official Creators of the NAENAE Song & Dance Movement Shout out to all the new dance movements, dancers, crews, and DJs making people dance again! #naenae #whipdance #yeet #shmoneydance #krewslide #TOONZWEARE #WEARETOONZ #SkunkFunk Pro.
Visit www.wearetoonz.com
Like Us on www.Facebook.com/wearetoonz
Follow us on www.Instagram/toonzweare
Follow us on www.twitter.com/wearetoonz
EXECUTIVE PRODUCER @vincephillips
Press Distribution | Images: RAWDOGGTV (Global Internet Publicist) Viral Marketing Global News Feed of your Album, Video, Movie, Product, Press Contact: ☎ 305-490-2182 gerald@rawdoggtv.com