VEVOLINK

LADY GAGA – LIVE FROM NYC TONIGHT!
Be here TONIGHT at

11:30 pm ET

! Gaga celebrates the arrival of her 'ARTPOP' album with a special New York concert. She will be performing all the new songs for the first time ever, and we'll stream the entire show. Don't miss the

'VEVO

Presents' artRave experience! #VEVOartRave
SHOWLINK: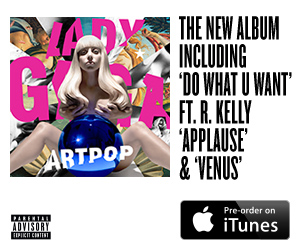 vevo.com/lady-gaga-artRave
LADY GAGA artRave concert Streamed live from New York
Lady Gaga and Vevo will live-stream a concert from artRave, an interactive exhibit in New York City, this Sunday, Nov. 10, at 11:30 p.m. ET. Gaga will perform songs from brand new album "Artpop," which will be released on iTunes at midnight. The event will be available on Vevo.com, as well as Vevo's free apps on iOS, Xbox and Apple TV. Rebroadcasts of the performance will run for 48 hours following the show.
The Internet broadcast, which will kick off at 11:30 p.m. Eastern, also will feature an exclusive exhibition of different works of art Gaga created in collaboration with Jeff Koons, Marina Abramovic, Inez & Vinoodh, Robert Wilson and her own TechHaus for the Artpop campaign.
In addition to the Vevo concert, Clear Channel will broadcast a half-hour "Album Release Party with Lady Gaga" special hosted by Ryan Seacrest on more than 150 Clear Channel Contemporary Hit Radio (CHR), Rhythmic CHR, and Hot AC stations around the country on November 11 at 9 p.m. ET. The Album Release Party will be recorded and televised for The CW Network, and will Tuesday, November 19 from 8 to 9 p.m. ET/PT.
DETAILS: The global concert and art event will be timed to the release of ARTPOP (Streamline/Interscope Records), Gaga's fourth album/app in five years, available globally on November 11. The album's first single, "Applause," is Gaga's 12th top 10 hit on the Billboard Hot 100.
Lady Gaga's contributions to the music industry have garnered her numerous achievements including five Grammy Awards amongst fifteen nominations and the estimated sale of 24 million albums and 125 million singles worldwide.
*VEVO's live stream and rebroadcasts available in US, Australia, Brazil, Canada, France, Germany, Ireland, Italy, The Netherlands, New Zealand, Poland, Spain and UK only.
SHARE:  #VEVOartRave
rawdoggtv.com/lady-gaga-artrave-concert-streamed-live-from-new-york