Psy's
Gangnam Style Video Hits 2 Billion YouTube Views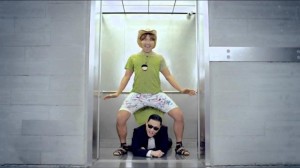 The mega-hit has just become the first video in history to surpass two billion views on YouTube, a little more than 17 months after becoming the first to surpass the initial billion mark.
YouTube marked the milestone with special pieces of animation showing little dancing Psys around the view counter.
YouTube reports viewership of K-pop vids growing from around 700 million total YouTube views in 2010 to more than 5.5 billion in 2013.
Psy's "Gentleman" music video holds the record for most video views in a single day, picking up 38 million in less than 24 hours.
"Gangnam Style" spent five weeks at No. 1 on the Billboard K-Pop Hot 100, reaching the No. 1 spot before even debuting on the Hot 100. The song spent 31 weeks on the U.S.-based Hot 100, with 7 weeks spent in the No. 2 position, held from the throne by Maroon 5's "One More Night." The track placed was the No. 1 song on 2012's year-end K-Pop Hot 100 chart and showed longevity in America, placing at No. 47 on the 2012's year-end Hot 100 chart and No. 55 on the 2013 ranking.
The 36-year-od's viral nature translated to his follow-up release "Gentleman" which set a record for most views for a video in its first day on the site, earning 18.9 million views worldwide. Proving he's wasn't a one-hit wonder, the track soared to No. 5 on the Billboard Hot 100.
PSY is said to make his return to the industry soon with a full-length LP. He recently filmed a new music video with Snoop Dogg and fellow K-pop superstar G-Dragon. PSY and Snoop have been announced as guests for the "Jimmy Kimmel Live: Game Night" special that begins with Game 1 of the NBA Finals on June 5.
Watch the ubiquitous, still hilarious, video below.
PSYs Gangnam Style Video Hits 2 Billion YouTube Views
billboard.com/articles/columns/k-town/6106224/psy-gangnam-style-2-billion-views-youtube-kpop
Wikipedia, the free encyclopedia – https://en.wikipedia.org/wiki/Gangnam_Style
"Gangnam Style" (Korean: 강남스타일, IPA: [kaŋnam sʰɯtʰail]) is the 18th K-pop single by the South Korean musician Psy. The song was released in July 2012 as the lead single of his sixth studio album Psy 6 (Six Rules), Part 1, and debuted at number one on South Korea's Gaon Chart. On December 21, 2012, "Gangnam Style" became the first YouTube video to reach a billion views.[5] As of May 31, 2014, the music video has been viewed over two billion times on YouTube, and it is the site's most watched video after surpassing Justin Bieber's single "Baby".
The phrase "Gangnam Style" is a Korean neologism that refers to a lifestyle associated with the Gangnam District of Seoul. The song and its accompanying music video went viral in August 2012 and have influenced popular culture worldwide since then. "Gangnam Style" received mixed reviews, with praise going to its catchy beat and Psy's amusing dance moves (which themselves have become a phenomenon) in the music video and during live performances in various locations around the world. In September 2012, "Gangnam Style" was recognized by Guinness World Records as the most "liked" video on YouTube. It subsequently won Best Video at the MTV Europe Music Awards held later that year. It became a source of parodies and reaction videos by many different individuals, groups and organizations.