FLEETWOOD MAC THE FIRST BAND
TO BE HONORED AS
2018 GRAMMYS MUSICARES PERSON OF THE YEAR
AT 28TH ANNUAL TRIBUTE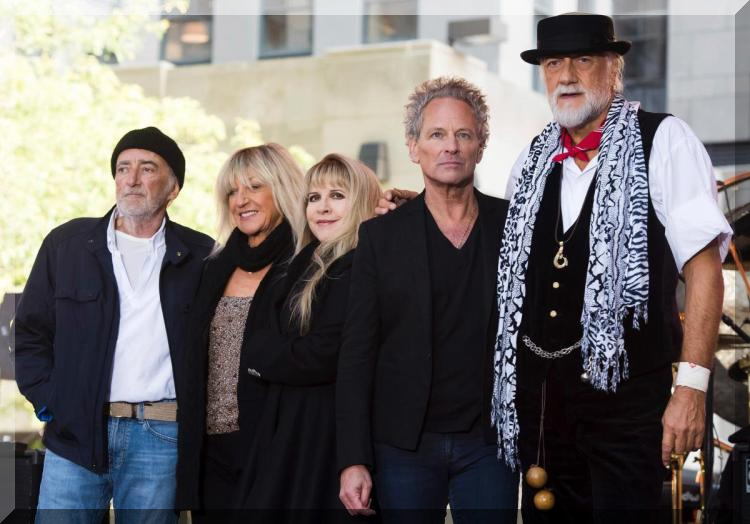 FLEETWOOD MAC TO BE HONORED AS 2018 GRAMMYS MUSICARES PERSON OF THE YEAR
Two-time GRAMMY winners Fleetwood Mac will be honored at the 2018 MusiCares® Person of the Year tribute on Friday, Jan. 26th, 2018, it was announced today by Neil Portnow, President/CEO of the MusiCares Foundation® and the Recording Academy™. Proceeds from the 28th annual benefit gala—to be held at Radio City Music Hall in New York City during GRAMMY® Week two nights prior to the 60th Annual GRAMMY Awards®—will provide essential support for MusiCares (www.musicares.org), which ensures music people have a place to turn in times of financial, medical, and personal need. The evening's tribute chairs are Shelli and Irving Azoff, Dorothy and Martin Bandier, Kristin and James Dolan, and Anna Chapman and Ronald Perelman.
Fleetwood Mac are being honored as the 2018 MusiCares Person of the Year in recognition of their significant creative accomplishments and their longtime support of a number of charitable causes, including MusiCares, the premier safety net of critical resources for the music industry.
"Our 2018 MusiCares Person of the Year tribute is a celebration of firsts—the first time our annual signature gala will be held in New York City in 15 years, and the first time in the benefit's history that we will honor a band," said Portnow. "This excitement is only matched by the genuine thrill and privilege of paying tribute to Fleetwood Mac, a legendary and influential group of artists whose music has provided the soundtrack for music lovers around the world."
"It's a tremendous honor to be the first band to receive the MusiCares Person of the Year award," said Mick Fleetwood on behalf of Fleetwood Mac. "Independently and together, we all set off on a journey to spend our lives as artists, songwriters, and musicians. None of us did it alone and there were plenty of helping hands along the way, so we applaud and celebrate MusiCares' guiding principles of giving musicians a helping hand and a place to turn in times of need. We are very appreciative of this recognition."
As one of the best-selling bands of all time, Fleetwood Mac have sold more than 100 million records worldwide and established their place in rock and roll music history. Having created a distinctive sound that endures today, the band was inducted into the Rock and Roll Hall of Fame in 1998. Their 1977 album Rumours remains one of the best-selling albums of all time. In 2015, the band's classic and most successful line up—comprising Lindsey Buckingham, Mick Fleetwood, Christine McVie, John McVie, and Stevie Nicks—reunited for the first time since 1998 for the On With The Show tour. The tour sold out arenas across the globe and showcased classic hit songs from Fleetwood Mac's career such as "The Chain," "Go Your Own Way," "Dreams," "Don't Stop," "Big Love," "Little Lies," and "Rhiannon," among others.
The MusiCares Person of the Year tribute ceremony is one of the most prestigious events held during GRAMMY Week and was last held in New York City in 2003. The celebration culminates with the 60th Annual GRAMMY Awards at Madison Square Garden on Sunday, Jan. 28, 2018. The telecast will be broadcast live on the CBS Television Network at 8 p.m. ET/5 p.m. PT.
Established in 1989 by the Recording Academy, the MusiCares Foundation offers health and human services and programs to members of the music community, including emergency financial assistance for basic living expenses such as rent, utilities, and car payments; medical expenses, including doctor, dentist and hospital bills; psychotherapy; and treatment for HIV/AIDS, Parkinson's disease, Alzheimer's disease, hepatitis C, and other critical illnesses. MusiCares offers nationwide educational workshops covering a variety of subjects, including financial, legal, medical, and substance abuse issues, and programs in collaboration with health care professionals that provide services such as flu shots, hearing tests and medical/dental screening.
 The MusiCares MAP Fund® provides access to addiction recovery treatment and sober living resources for members of the music community. Staffed by qualified chemical dependency and intervention specialists, MusiCares offers Safe Harbor Room® support, sponsored in part by the Bohemian Foundation, to provide a network to those in recovery while they are participating in the production of televised music shows and other major music events. MusiCares holds weekly addiction support groups for people to discuss how to best cope with the issues surrounding the recovery process. The MusiCares Sober Touring Network is a database of individuals across the United States who can take music people to recovery support meetings while on the road.