The 2021 GRAMMYs have been postponed to Sunday, March 14, 2021
63rd Grammy Awards 27th SAG Awards March 14th 2021
The Recording Academy's postponement of the 2021 Grammy Awards from Jan. 31 to March 14 means "music's biggest night" will be going head-to-head with the 27th Annual Screen Actors Guild Awards.The 2021 GRAMMYs have been postponed to Sunday, March 14, 2021.
The smaller-scale Grammys event was set to be held at Staples Center, and broadcast on CBS. Only presenters and performers would be there, and the show would feature no audience.
The following is a joint statement from HARVEY MASON JR., Chair & Interim President/CEO of the Recording Academy; JACK SUSSMAN, Executive Vice President, Specials, Music, Live Events and Alternative Programming, CBS; and BEN WINSTON, GRAMMY Awards Executive Producer, Fulwell 73 Productions.
63rd Grammy Awards 27th SAG Awards March 14th 2021
"After thoughtful conversations with health experts, our host and artists scheduled to appear, we are rescheduling the 63rd Annual GRAMMY Awards® to be broadcast Sunday, March 14, 2021. The deteriorating COVID situation in Los Angeles, with hospital services being overwhelmed, ICUs having reached capacity, and new guidance from state and local governments have all led us to conclude that postponing our show was the right thing to do. Nothing is more important than the health and safety of those in our music community and the hundreds of people who work tirelessly on producing the show.
SAG Awards 'extremely disappointed'

Grammys moved to March 14th: 'We announced the SAME date last July!'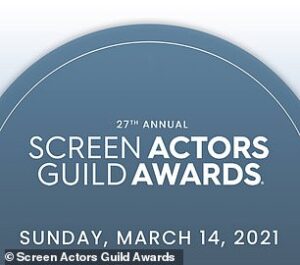 SAG-AFTRA 'reached out' to the Recording Academy on Tuesday after they announced they were moving the 63rd Annual Grammy Awards from January 31 to March 14 – the same exact date as the 27th Screen Actors Guild Awards. We are extremely disappointed to hear of the conflicting date,' SAG-AFTRA said in a statement to Deadline.
'We announced the same date for the SAG Awards [on July 2] with the intent to give the greatest possible scheduling consideration for other awards shows. We expect the same consideration from sister organizations throughout the industry.'
They continued: 'Our two organizations share members and work together effectively to advocate for artists in many areas. In an environment that is increasingly challenging for televised awards programs, we also have a mutual interest in successfully showcasing the artistry and talent of our respective memberships.'
Both awards shows – airing on TNT/TBS and CBS, respectively – are scheduled to take place in Los Angeles
Hip-hop and R&B rules US Streaming
The leading genre by streams was, as is almost always the case, R&B and hip-hop. A total of 30.7 percent of all streams came from the R&B and hip-hop genre, and whilst this is markedly less than the figure reported in 2018, music from this genre remains the most popular.
MRC Data (formerly Nielsen SoundScan and Nielsen Music Products) is a provider of music sales data. Established by Mike Fine and Mike Shalett in 1991, data is collected weekly and made available every Sunday (for albums sales) and every Monday (for songs sales) to subscribers, which include record companies, publishing firms, music retailers, independent promoters, film and TV companies, and artist managers. It is the source of sales information for the